This list relates to the 2017-18 which ended on 18/08/2018
NOTE: Readings for tutorials and essays are available on a separate list.

SECTION 1 - Anthropology of Science

62 items

Weeks 1 and 2 - Dr Christos Lynteris

SECTION 2 - Approaching the City

35 items

Weeks 3 and 4 - Dr Adam Reed

This part of the course considers what an urban anthropology can bring to 'classic' theories of the city. It invites students to consider what an anthropological approach to the city might look like; and whether there can ever be anthropology of the city as opposed to anthropology in the city. Students will be introduced to grand urban theory (debates and historical accounts that seek to grasp the nature of the city as a social phenomenon and describe its processes), but also to urban ethnography and ethnographic descriptions of particular cities. Attention will be paid to the diverse ways of knowing and seeing the city, and to the range of strategies that make identification possible. For example, the tendency of popular and academic commentators to reify the city as a person, to ascribe it with what appears as a coherent character and atmosphere. The course will draw on anthropological and historical studies from many different cities, including my own work in London. As well as lecture room teaching and student reading, the broader implications for students' upcoming research projects will be explored.

Lecture 1. Theories of the City

4 items

We shall consider some of the 'classic' theories of the city, and what an anthropological perspective can bring to them. Attention will fall on 'the city' as abstract category and individuated place; students will be asked to consider its qualities as an artefact and object of knowledge. This includes examining the kinds of historical trajectories ascribed to cities and the kinds of anxieties attempts to know the city produce (such as fears that cities are changing took quickly, that they are too vast and complex ever to know completely). Participants will be encouraged to read grand urban theory with these kinds of questions in mind.

Lecture 2. Anthropology of the City

5 items

Here we ask: what defines urban anthropology? Is it merely the fact that anthropologists conduct fieldwork in cities or can one begin to consider anthropology of cities? The debate is illustrated by looking at a few examples (Athens, Benares, London) where ethnographic descriptions of cities have been attempted.

Lecture 3. The City as Person: Anthropology and Urban Sketch Writing

7 items

Here we examine the historical relationship between anthropological writing and travel writing, and in particular the development of urban sketch writing, which seeks to approach to know the city as an entity that possesses person-­‐like qualities. Sketch writers claim to be able to describe and capture the city as a whole by paying close attention to what they diagnose as its prevailing personality or character. Participants are invited to consider what this legacy brings to urban theory and to the development of anthropology of the city.

Lecture 4. The City and Kinship

5 items

As well as reifying the city as a being or person, people often use it to draw out kin‐type relations. As an artefact, the city becomes a substitute for persons and for the divisions that define their relationships to each other. Here we reflect how classical anthropological categories such as gender, personhood and nationhood are reflected in the ways knowledge of cities is generated.

Lecture 5. Colonial and Postcolonial Cities: Planning and Modernism

5 items

Here we consider the ways in which cities have been explicitly constructed as artifacts to demonstrate the power and authority of particular colonial and postcolonial state bodies. The notion that cities can embody political and social ideals, particular knowledge formations, and demonstrate their efficacy is explored through a range of examples (Brasilia, New Delhi, Cairo, Rabat).

Colonising Egypt - Timothy Mitchell 1991

Book Chapters 2-3. Available in the Library and as an e-book. (Please note: there is limited simultaneous user access to the e-book - download the chapters rather than reading online.)

Lecture 6. City as Map

5 items

We consider cartographic expressions of the city. This includes attempts to know the city through mapping it or through trying to turn it into a map. As well as telling the story of the relationship between perspective, cities and maps, we examine alternative mapping techniques and attempts to subvert the kinds of order maps can impose (with particular reference to Morocco). Drawing on the previous lectures, we also look at the way social memory finds expression in public maps. Finally, we examine other kinds of artifacts generated by the desire to know the city better.

Lecture 7. Class exercise

3 items

In this Class exercise we will use the following article as a springboard for a wider discussion about the contemporary relationships between New Media and Urban Knowledge:

Break-out exercises will centre on getting students to focus on the ways in which specific new media forms of communication (i.e. Twitter, Facebook, Weblogs etc) impact or shape our engagement with specific cities, and how the idioms and relational forms of those new media animate how we think about connections between persons and urban environments.

Please come prepared to talk about a specific form of new media that mediates your relationship to a place you know well.

SECTION 3 - Ethnography as Experience, Ethnography as Genre

43 items

Weeks 5 and 6 - Dr Melissa Demian

Ethnography remains the canonical form in communicating research findings in social anthropology; indeed one could fairly be said to define the other. To help prepare you for your Ethnographic Encounters project, we will spend these two weeks interrogating what it is anthropologists mean when they talk about ethnography, and some of the dilemmas that have arisen as this idiosyncratic mode of research has developed and changed in the short history of the discipline.

Lecture 1: Strangers in Strange Lands

8 items

In the beginning, ethnography was about researchers throwing themselves into social environments that were as alien as possible to their own, and trying to make sense of them. Based on the travel narratives of the nineteenth century and earlier, ethnography shifted from a purely literary form to one that was intended to reproduce a particular set of research questions…but was the transition ever complete?

Lecture 2: Who is the Ethnographer?

6 items

Does it matter who you are when you engage with others in the capacity of an ethnographer? What does it mean for the researcher to also be the instrument of research, and how does the ethnographer's subject position affect the research? Ultimately, the ethnography produced is neither 'about' the researcher or the people she or he worked with, but the relationship between them.

Lecture 3: Where is the Field?

6 items

Ethnography canonically is a result of 'fieldwork' – but what does this somewhat mystified term actually mean? To prepare you for this week's encounters project workshop, we will consider how ethnography draws boundaries (or fails to draw them) between the ethnographer's own life and that of the social environment in which fieldwork is conducted.

Lecture 4: What Could Possibly Go Wrong?

8 items

Ethnographic research sometimes works best when it isn't working, or doesn't seem to be. This week we will discuss the effects of the unexpected in ethnography: disaster, failure, or simply things going pear-shaped…and how these experiences sometimes produce the most powerful insights in ethnographic writing.

The above is also reprinted in:

Lecture 5: Embodied Ethnography

7 items

Even as ethnography has moved into new non-territorialised social settings – online contexts, financial systems, design projects, corporate collaborations, etc. – the importance of space and movement through space should not be discounted. This week we consider how to research cultural practices and social logics that are on the move. At the same time we ask, what is to be gained by sitting still and observing the itineraries of people and things as they circulate through space?

Lecture 6: Is an Ethical Ethnography Possible?

6 items

Our final lecture will consider a perennial, and perennially fraught, topic in ethnographic research: the ethics of conducting this kind of research in the first place. Although now constrained – to a certain extent – by professional codes and the ethics committees of universities, it is still the case that the ethnographic relationship will almost invariably be characterised by asymmetries between the researcher and his or her interlocutors. Is this resolvable? Should it be resolved?

Reciprocity - Sarah Maiter, Laura Simich, Nora Jacobson, Julie Wise 2008

Article

Lecture 7: Film - Five Ways In, Dir. Mike Poltorak, Sonja Brühlmann, And Alyssa Lynes. 73 Min. United Kingdom, 2014.

1 item

Five Ways In is an experiment in visual, sensory, and collaborative ethnography. Taking Contact Improvisation as both its subject matter and its creative inspiration, an anthropologist and his dancer collaborators use the medium of ethnography to explore how both anthropology and dance can be made into processes of 'co-creation'.

For more information on the film and its creative/research team:

SECTION 4 - Ethnographic Encounters

15 items

Weeks 7 and 8 - Dr Tony Crook

SECTION 5 - Anthropological Encounters

50 items

Weeks 9 and 10 - Dr Stan Frankland

In this part of the module, I will be looking at a number of disparate ways in which contemporary anthropology deals with the changing world in which we all live. By looking at certain subjects on the fringes of the modern discipline, I will hope to show you how almost anything can be anthropological. By taking some old anthropological theories and some interdisciplinary texts, I will attempt to show how they can be revivified and reworked in relation to issues both familiar and strange.

Lecture 1. The Anthology of Flip Flops

7 items

In this lecture, we will begin with a simple recycled object. How can we turn this tourist trinket into an object worthy of anthropological investigation? To answer this question, we will watch a short film and frame our understanding of the film in the context of Appadurai's work on the social life of things.

Flip Flotsam - Lucy Bateman, Etienne Olif 2003

Audio document Documentary film

Lecture 2. Contemporary Mythologies

8 items

From the armchair musings of Frazer through to the almost unreadable structuralism of the dreaded Lévi-Strauss, myth has been one of the key topics within the development of social anthropology. This lecture avoids these 'primitive' bound theories in favour of Barthes' understanding of our own mythological and semiotic systems. Just how myth bound are we? And what role do myths play in our own understanding of the world?

21st-Century Mythologies - Peter Conrad 2014

Audio document Radio series from 2014 in which Conrad updates Barthes Mythologies.

Lecture 3. The Ritual Process Revisited

9 items

Anthropology has always been concerned with ritual activities. Turner's elaboration of Van Gennep has become almost an intellectual given within the discipline. Ideas of liminality and communitas permeate the anthropological discourse. In this lecture, we revisit these ideas and hone in on his often forgotten concept of the liminoidal.

Lecture 4. The Anthropology of Non-Places

6 items

Spaces or landscapes of travel and mobility are frequently referred to as being 'placeless', 'abstract', and 'ageographical'. In this lecture, we will examine the work of Augé and his characterization of spaces such as airports and shopping malls as 'non‐places'. We will also move beyond this rather dystopian view to look at the heterogeneity and materiality of the social networks bound up with the production of such environments.

Lecture 5. The Anthropology of Pirates

8 items

From the swashbuckling of Errol Flynn through to the pantomime of Johnny Depp, the figure of the pirate has remained a potent symbol within the Euro-­‐American imagination. But what is piracy today? How has anthropology looked at the subject? And what can we learn from these encounters?

Lecture 6. Punk Anthropology

10 items

In the late 1970s, academics began to focus on youth groups that were deemed to be oppositional to the dominant society. Initially, groups such as punks and skinheads were viewed as class based subcultures bonded together by a shared taste in music, fashion and ownership of a unique form of cultural capital. How has this view changed with time and technological transformation?

Lecture 7: Film - Beautiful Dachau (Marcus 2008)

1 item

Beautiful Dachau is an experimental documentary that observes streams of visitors to the Dachau concentration camp, now a popular tourist attraction. 800,000 people visit the site annually.
All rights reserved ©
Profile Required
Reading intentions and notes are stored against your user profile. Please create a profile to use this feature.
My notes
You must be logged in to add a note
What are item notes?
You can use item notes to make personal notes on any of your reading items. Notes are private to you and will not be shown to other users.
You can review your item notes from the list, the item page or from your profile page.
---
How do I create an item note?
To make notes, first you must be logged in. Once logged in, simply click Add note? next to the list item you wish to make notes on. You can also make notes at the bottom of every item's detail page.
Your note will be saved automatically as you type.
Have you read this?
You must be logged in to set a reading intention
What are reading intentions?
Setting up reading intentions help you organise your course reading. It makes it easy to scan through your lists and keep track of progress. Here's an example of what they look like: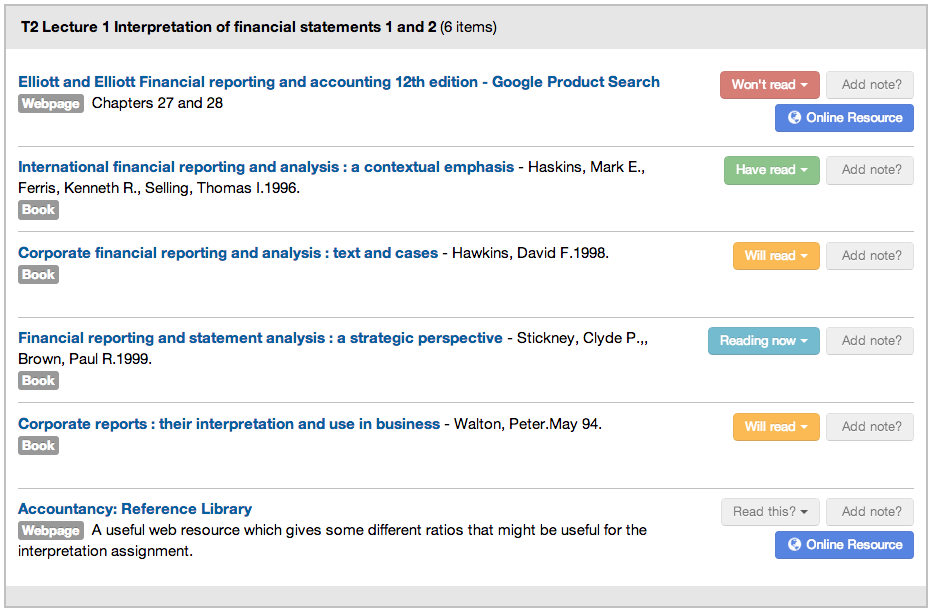 Your reading intentions are also stored in your profile for future reference.
---
How do I set a reading intention
To set a reading intention, first you must be logged in. Once logged in, click Read this? next to the list item you wish to set a reading intention for.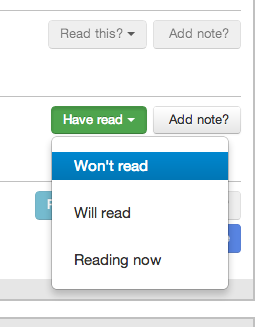 You can also set the reading intention from every item's detail page.