General reading list

37 items

Book list for extended critical book review

12 items

You are expected to write an extended critical book review of one of the texts listed below. This review will be up to 2,000 words long and is due in Week 5.

- or alternative edition:

Other books that you may wish to read over the course of your studies

25 items

The Great Crash, 1929 - John Kenneth Galbraith 1961

Book This has been re-published since the 2008 crunch.

Week 1: Introduction, module overview, context of module and the contemporary managerial environment, and housekeeping

2 items

Week 2: The nation state and the policy discourse

2 items

Week 3: On wealth, health and wellbeing: securing health, policy and organisational responses to managing the nation's ill health

6 items

- or alternative edition:

Supplementary readings

2 items

Week 4: The economic crisis

2 items

Week 5: Diversity and justice

4 items

Supplementary readings

3 items

Week 6: Independent Learning Week

1 item

During this week you are expected to consolidate your reading and take the opportunity to reflect on the issues explored so far in the module.

Week 7: Brexit panel debate - outcomes and impacts

1 item

To be confirmed.

In this week you will take part in a debate on the outcome and impact of Brexit on organisations and the context of management processes and tasks. Brexit will be used as an example of a very significant geo-political shift that impacts on organisations of all sizes, and on management work.

Please ensure that you bring at least one question/comment from your study team to this session, so that you can address the panel, and join in the debate. The panel will include Prof Huw Davies, amongst others.

Week 8: National security and the private sector

3 items

Week 9: Organisations and sustainability

6 items

Supplementary readings

3 items

Week 10: Environmental security

23 items

Supplementary readings

17 items

Week 11: Module wrap-up: re-cap and exam tips

1 item

We will focus on the main topics and themes that have emerged during the module and will look forward to a range of possible futures.

In this module, we have examined the complex world that surrounds us and explored how this will impact on organisations and the practice of management. This last lecture will re-cap the key issues explored in the module and focus on how we might think about possible futures and also the nature of the futures that various people think may come to pass. Of course, the future is unknowable but many of the big pressures and trends that shape the future are known and this is what this module has sought to illuminate for you. We will also cover how this module links forward to the issues and topics covered in MN5002 - Contemporary Cultural issues in Management in Semester 2. Finally, we will cover tips to help you prepare for the end of module exam.
All rights reserved ©
Profile Required
Reading intentions and notes are stored against your user profile. Please create a profile to use this feature.
My notes
You must be logged in to add a note
What are item notes?
You can use item notes to make personal notes on any of your reading items. Notes are private to you and will not be shown to other users.
You can review your item notes from the list, the item page or from your profile page.
---
How do I create an item note?
To make notes, first you must be logged in. Once logged in, simply click Add note? next to the list item you wish to make notes on. You can also make notes at the bottom of every item's detail page.
Your note will be saved automatically as you type.
Have you read this?
You must be logged in to set a reading intention
What are reading intentions?
Setting up reading intentions help you organise your course reading. It makes it easy to scan through your lists and keep track of progress. Here's an example of what they look like: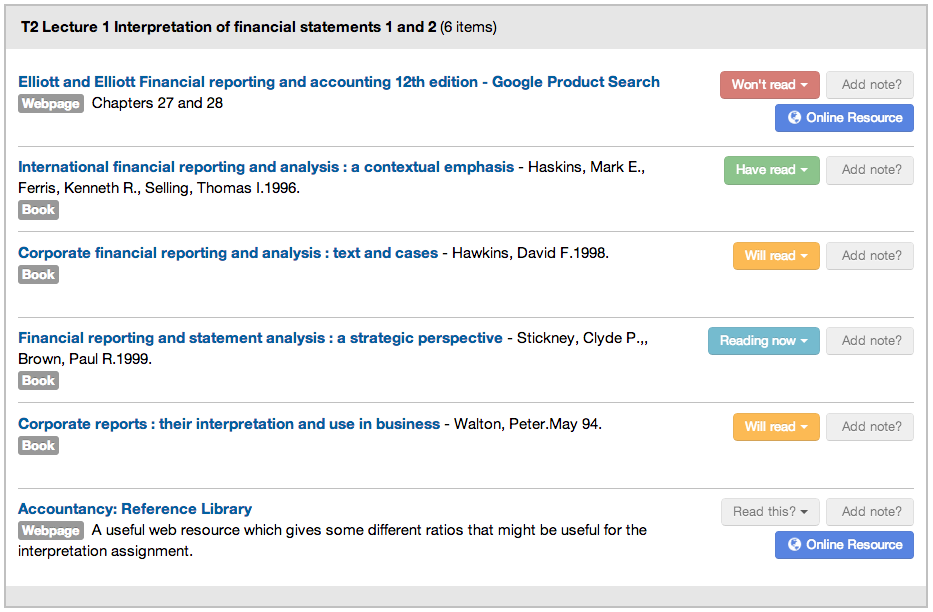 Your reading intentions are also stored in your profile for future reference.
---
How do I set a reading intention
To set a reading intention, first you must be logged in. Once logged in, click Read this? next to the list item you wish to set a reading intention for.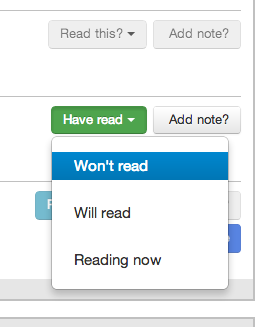 You can also set the reading intention from every item's detail page.