Generation, Genealogy and the Quest for Tradition: Contemporary German Family Narratives

GM4091
Secondary Literature:

20 items

Grenzen des Verstehens. Generationsidentaten in der neuen deutschen Erinnerungsliteratur - Assman, Aleida. Familiendynamik. Interdisziplinare Zeitschrift fur systemorientierte Praxis und Forschung 30 (2005), 370-389. Not in library.

German Life and Letters: A Quarterly Review

Journal 'On the (In)Compatibility of Guilt and Suffering in German Memory', Assmann, Aleida. In German Life & Letters 59 (2006), special issue: Memory Contests, ed. by Anne Fuchs and Mary Cosgrove, 187-200.

Literature Online - Criticism & Reference: Full Text

Webpage 'Telescopage im Unbewussten: Zum Verhaltnis von Trauma, Geschichtsbegriff und Literatur',Weigel, Sigfrid in Elisabeth Bronfen, Brigit Erdle, and Sigfrid Weigel (eds), Trauma: Zwischen Psychoanalyze und kulturellen Deutungsmuster, 1999, pp. 51-76.

The Germanic review 1946-

Journal '"Generation" as a symbolic form: On the Genealogicla discourse of memory since 1945', Weigel, Sigfrid. The Germanic Review 77 (2002), pp. 264-277.
All rights reserved ©
Profile Required
Reading intentions and notes are stored against your user profile. Please create a profile to use this feature.
My notes
You must be logged in to add a note
What are item notes?
You can use item notes to make personal notes on any of your reading items. Notes are private to you and will not be shown to other users.
You can review your item notes from the list, the item page or from your profile page.
---
How do I create an item note?
To make notes, first you must be logged in. Once logged in, simply click Add note? next to the list item you wish to make notes on. You can also make notes at the bottom of every item's detail page.
Your note will be saved automatically as you type.
Have you read this?
You must be logged in to set a reading intention
What are reading intentions?
Setting up reading intentions help you organise your course reading. It makes it easy to scan through your lists and keep track of progress. Here's an example of what they look like: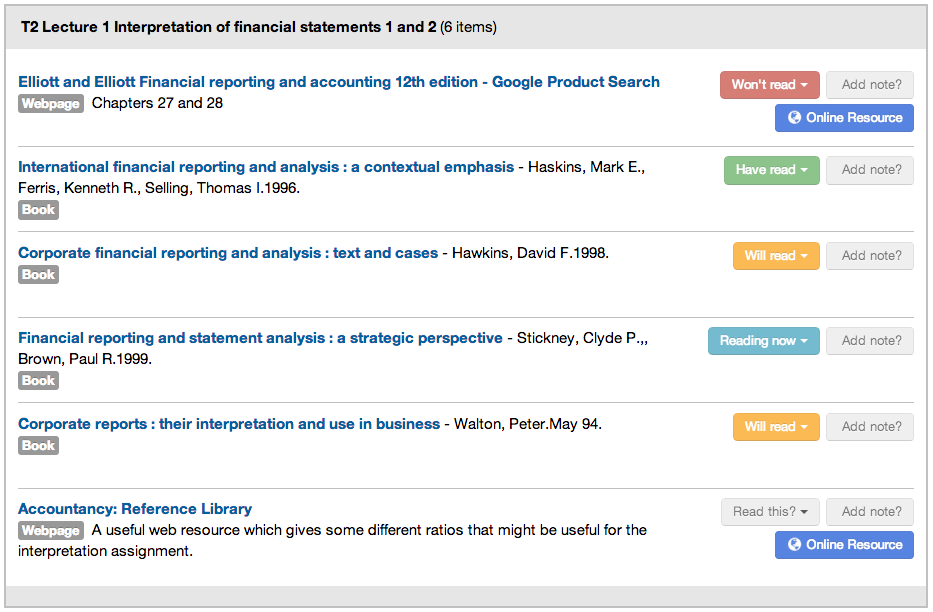 Your reading intentions are also stored in your profile for future reference.
---
How do I set a reading intention
To set a reading intention, first you must be logged in. Once logged in, click Read this? next to the list item you wish to set a reading intention for.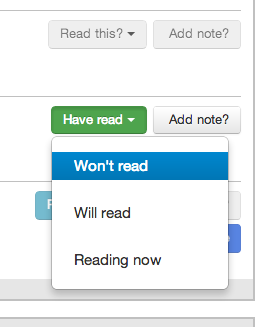 You can also set the reading intention from every item's detail page.