This list has been archived
Week 1. Historiographical Perspectives on Nobility

5 items

Week 2. The Composition and Characteristics of the European Nobility

20 items

Murdoch, S., 'Fabricating Nobility? Genealogy and Social Mobility among Franco-Scottish families in the Early Modern Period' in Ranam: Recherches Anglaises et Américaines (2007), pp.37-52.

Week3. The Bases of Noble Power

21 items

Week 4. Maintaining the Patrimony

30 items

a) The Rise of Strict Settlement in England

b) Entail and Noble Power on the Continent

Week 5. The Role of Marriage and the Place of the Noblewoman

41 items

Week 6. Challenges: The State

22 items

Week 7. Challenges: Social Mobility and New Nobilities

27 items

'Clerics and the State' - Reinhard, Wolfgang, European Science Foundation, H. Millet, P. Moraw 1996

Chapter pp. 173 -188.

'Social Structure' - Ogilvie, Sheilagh C., W. Mager , R. von Friedberg , O. Morke 1996

Chapter pp. 134-163.

Week 8. Responses: resistance and Revolt

28 items

Week 9. Responses: Education and Civility

25 items

Mueller, R.A., Universitaet und Adel. Eine soziostrukturelle Studie zur Geschichte der bayrishce Landesuniverstaet Ingolstradt 1472-1648 (1974) On Order for Library

Wallbank, M.V., 'Eighteenth-century Public Schools and the Education of the Governing Elite,' History of Education, 8/1979, pp. 1-19. On Order for Library -electronic version on Informaworld

Week 10. Responses: Princely Service and Civic Duty

17 items

Week 11. Conclusion: A Storm Weathered?

16 items

Additional Reading

191 items

MO3104

Bastress-Dukehart, E. 2008. Sibling conflict within early modern German noble families. Journal of Family History 33 (1)- To be made available on MMS

Korner, A., The theatre of social change: Nobility, opera industry and the politics of culture in Bologna between papal privileges and liberal principles. Journal of Modern Italian Studies 8 (3) 2003, pp. 341-369. To made available on MMS.
All rights reserved ©
Profile Required
Reading intentions and notes are stored against your user profile. Please create a profile to use this feature.
My notes
You must be logged in to add a note
What are item notes?
You can use item notes to make personal notes on any of your reading items. Notes are private to you and will not be shown to other users.
You can review your item notes from the list, the item page or from your profile page.
---
How do I create an item note?
To make notes, first you must be logged in. Once logged in, simply click Add note? next to the list item you wish to make notes on. You can also make notes at the bottom of every item's detail page.
Your note will be saved automatically as you type.
Have you read this?
You must be logged in to set a reading intention
What are reading intentions?
Setting up reading intentions help you organise your course reading. It makes it easy to scan through your lists and keep track of progress. Here's an example of what they look like: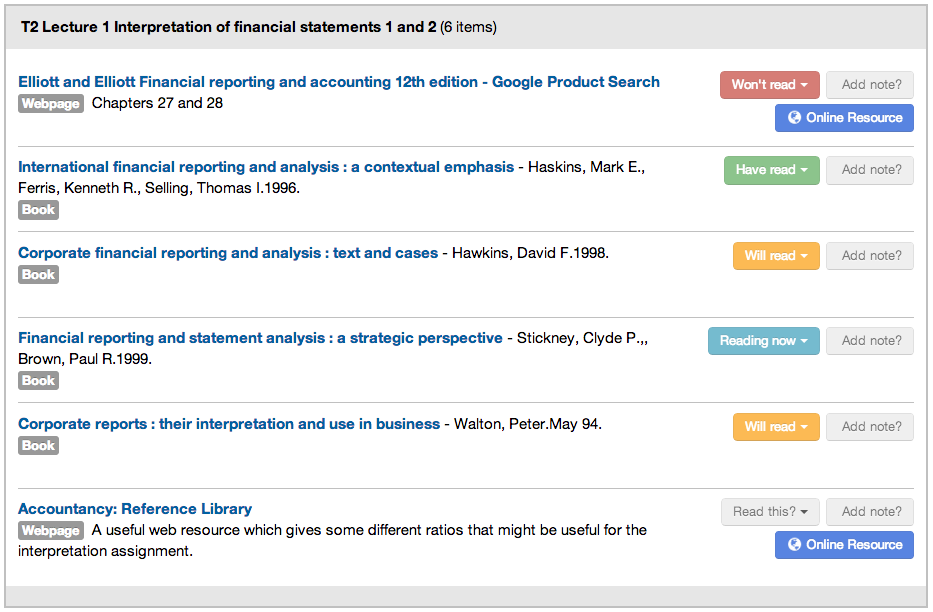 Your reading intentions are also stored in your profile for future reference.
---
How do I set a reading intention
To set a reading intention, first you must be logged in. Once logged in, click Read this? next to the list item you wish to set a reading intention for.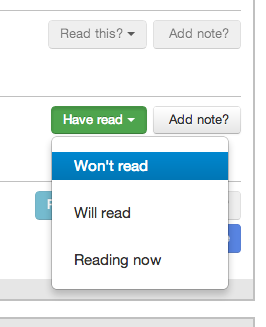 You can also set the reading intention from every item's detail page.