1) Module Introduction

1 item

An introductory meeting to make introductions, review the course structure and content, and distribute reading

2) The Tudor Classroom: From Pedagogy to Poetry (NPPR)

14 items

Further reading:

12 items

For Spenser, see the bibliographies contained in Richard McCabe ed., The Oxford Handbook of Edmund Spenser (2010).See below:


On humanist education, see:

3) Hamlet: Student and Philosopher

8 items

4) Figures of Speech: Race, Class, Gender

8 items

Renaissance figures of speech - Sylvia Adamson, Gavin Alexander, Katrin Ettenhuber 2007

Book Read: Compar or parison: measure for measure - Russ McDonald. Available in the library and as an e-book.

5) Ideals of Style: Copia

7 items

6) Independent Learning Week (no teaching)

7) Two Versions of Neoclassicism

5 items

Titus Andronicus - William Shakespeare, Jonathan Bate 1995

Book Read: Introduction.

8) Defending Vernacular Literature

6 items

9) The Language of Politics

10 items

10) Milton's Polemical Prose

9 items

Areopagitica; and, Of education - John Milton, Kathleen Marguerite Lea 1973

Book There are many other editions of this text available in the Library and online.

11) EN5304 and EN5302 Essay Workshop

1 item

This is a session for discussion of writing and research problems in advance of the submission of the first batch of essays.
All rights reserved ©
Profile Required
Reading intentions and notes are stored against your user profile. Please create a profile to use this feature.
My notes
You must be logged in to add a note
What are item notes?
You can use item notes to make personal notes on any of your reading items. Notes are private to you and will not be shown to other users.
You can review your item notes from the list, the item page or from your profile page.
---
How do I create an item note?
To make notes, first you must be logged in. Once logged in, simply click Add note? next to the list item you wish to make notes on. You can also make notes at the bottom of every item's detail page.
Your note will be saved automatically as you type.
Have you read this?
You must be logged in to set a reading intention
What are reading intentions?
Setting up reading intentions help you organise your course reading. It makes it easy to scan through your lists and keep track of progress. Here's an example of what they look like: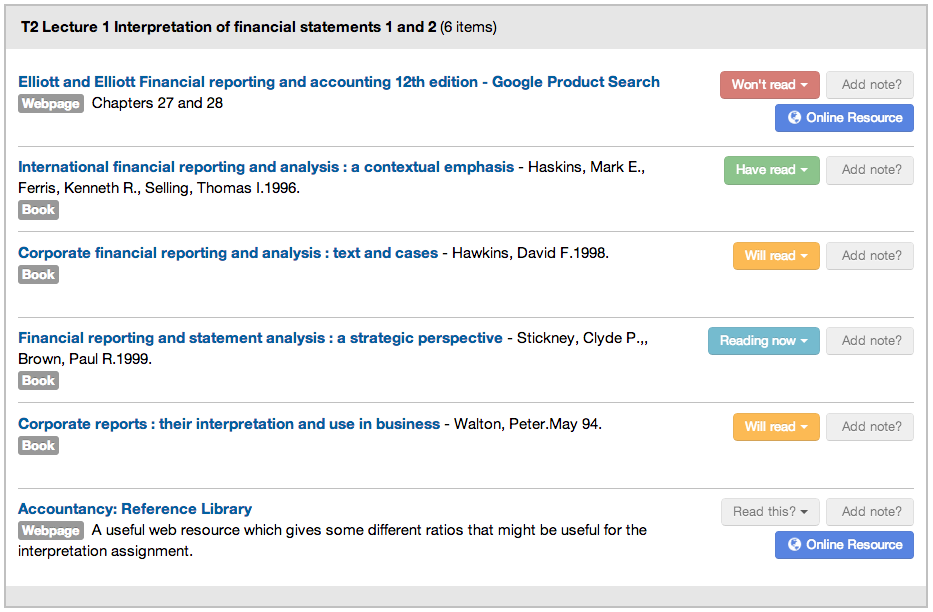 Your reading intentions are also stored in your profile for future reference.
---
How do I set a reading intention
To set a reading intention, first you must be logged in. Once logged in, click Read this? next to the list item you wish to set a reading intention for.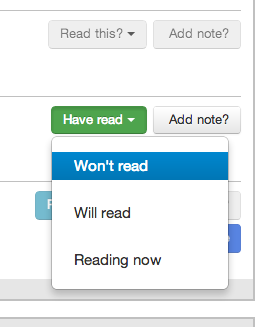 You can also set the reading intention from every item's detail page.