Guidance on reading

7 items

There is no single textbook for this module. In fact, the idea of this module is for you to engage directly with key original texts. In addition to journal articles and scanned individual book chapters, we will be reading multiple chapters from a number of books, all of which the Library has made available in electronic format. There is thus no need to purchase any particular book for this module.

If you feel that you require some additional background, I can recommend the following textbooks, some of which are also listed below under the relevant Further Reading sections:

Theory-driven research on international relations more broadly

2 items

History of military-strategic thought

1 item

Theory-driven research on the origins of inter-state war

1 item

Causes of War - Jack S. Levy, William R. Thompson 2010 (electronic book)

Book

Theory-driven research on civil war

1 item

I. Introduction

Please note that the required readings are listed in the order in which I recommend you read them. The further readings are listed alphabetically.

Week 1: The Nature of War

15 items

On War - Carl von Clausewitz, ed. and trans., Michael Eliot Howard, Peter Paret 1984

Book Book I, 'On the Nature of War', pp. 75-123.

In Defence of New Wars - Mary Kaldor 2013

Article See also the Afterword in the third edition of New and Old Wars.

II. Why Do States Go To War?

Week 2: Domestic Politics vs. International Structure

17 items

Causes of war - Jack S. Levy, William R. Thompson 2010 (electronic book)

Book

Week 3: The Bargaining Model and Its Critics

20 items

III: How Do States Anticipate, Threaten, and Use Force?

Week 4: Intelligence

16 items

Pearl Harbor: warning and decision - Roberta Wohlstetter 1962

Book Focus on chapters 1-2 and 6-7, pp. 1-169; 339-401. Read / skim as much as you can of the rest. Available in Library and as an e-book.

Week 5: Strategy in the Nuclear Age

18 items

Arms and influence - Thomas C. Schelling 1966

Book Preface and all chapters, pp. 1-286 (print). Also available as an e-book with a new preface and afterword.

History and strategy - Marc Trachtenberg c1991

Book Chapter 1 ("Strategic Thought in America, 1952–1966"), pp. 3–46. Provides important histor-ical context to Schelling's book.

Week 6: Independent Learning Week

1 item

Week 7: Military Power

16 items

Journal of Strategic Studies: Vol 28, No 3 2005

Journal Read: pp. 413–469. Cohen, Eliot A., Lawrence Freedman, Michael Horowitz and Stephen Rosen, Martin van Creveld, and Stephen Biddle. Military Power: A Roundtable Review.

Understanding modern warfare - David Jordan, James Kiras, David J. Lonsdale, Ian Speller 2016

Book Useful textbook. Also covers naval warfare, which we do not discuss in detail.

Week 8: Alliances

17 items

IV: Why and How Do Insurgents and States Fight?


Week 9: Causes of Civil War

16 items

Week 10: Insurgent and Counterinsurgent Warfare

19 items

Week 11: War Termination and Peacekeeping

17 items

How wars end - Dan Reiter 2009 (electronic book)

Book Chapters 1-3, pp. 1-50.

Understanding peacekeeping - Alex J. Bellamy, Paul Williams, Stuart Griffin 2010

Book Textbook providing an overview of different types of operations.
All rights reserved ©
Profile Required
Reading intentions and notes are stored against your user profile. Please create a profile to use this feature.
My notes
You must be logged in to add a note
What are item notes?
You can use item notes to make personal notes on any of your reading items. Notes are private to you and will not be shown to other users.
You can review your item notes from the list, the item page or from your profile page.
---
How do I create an item note?
To make notes, first you must be logged in. Once logged in, simply click Add note? next to the list item you wish to make notes on. You can also make notes at the bottom of every item's detail page.
Your note will be saved automatically as you type.
Have you read this?
You must be logged in to set a reading intention
What are reading intentions?
Setting up reading intentions help you organise your course reading. It makes it easy to scan through your lists and keep track of progress. Here's an example of what they look like: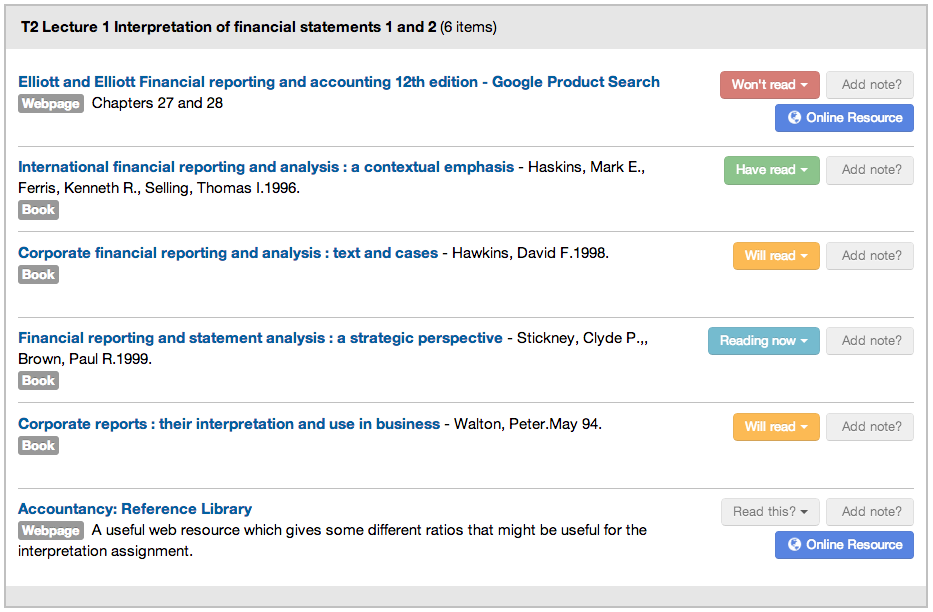 Your reading intentions are also stored in your profile for future reference.
---
How do I set a reading intention
To set a reading intention, first you must be logged in. Once logged in, click Read this? next to the list item you wish to set a reading intention for.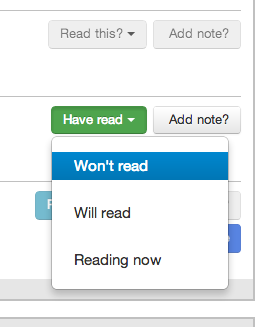 You can also set the reading intention from every item's detail page.