The Twentieth Century Italian Novel
2017-18
Is the interpretative category of "modernism" applicable to the Italian novel of the 20th century? If so, what authors and texts can be considered representative of this cultural tendency? In this module, we will look at a range of Italian novels through the lenses of the current debate on Italian modernism in order to understand the ways in which these novels respond to, and articulate, the "crisis" of modernity. We will read novels by Svevo, Pirandello, Tozzi, and Ginzburg, and analyze both thematic and formal aspects of the texts, aiming to identify similarities and differences among them, and to draw patterns of Italian literary modernism. A selection of critical essays will help us situate the novels in their specific historical and cultural context and, at the same time, understand their relevance within the broader framework of Italian modernism.
This list relates to the 2017-18 which ended on 18/08/2018
Set primary texts

4 items

European and Italian Modernism_Week 2

5 items

Pirandello_Weeks 5-6

10 items

Luigi Pirandello: contemporary perspectives - Gian-Paolo Biasin, Manuela Gieri 1999

Book Essential Please read pp. 214-32, Wladimir Krysinski, "Pirandello in the Discursive Economies of Modernity and Postmodernism" [Digitised]

Ginzburg_Weeks 9-10

6 items
All rights reserved ©
Profile Required
Reading intentions and notes are stored against your user profile. Please create a profile to use this feature.
My notes
You must be logged in to add a note
What are item notes?
You can use item notes to make personal notes on any of your reading items. Notes are private to you and will not be shown to other users.
You can review your item notes from the list, the item page or from your profile page.
---
How do I create an item note?
To make notes, first you must be logged in. Once logged in, simply click Add note? next to the list item you wish to make notes on. You can also make notes at the bottom of every item's detail page.
Your note will be saved automatically as you type.
Have you read this?
You must be logged in to set a reading intention
What are reading intentions?
Setting up reading intentions help you organise your course reading. It makes it easy to scan through your lists and keep track of progress. Here's an example of what they look like: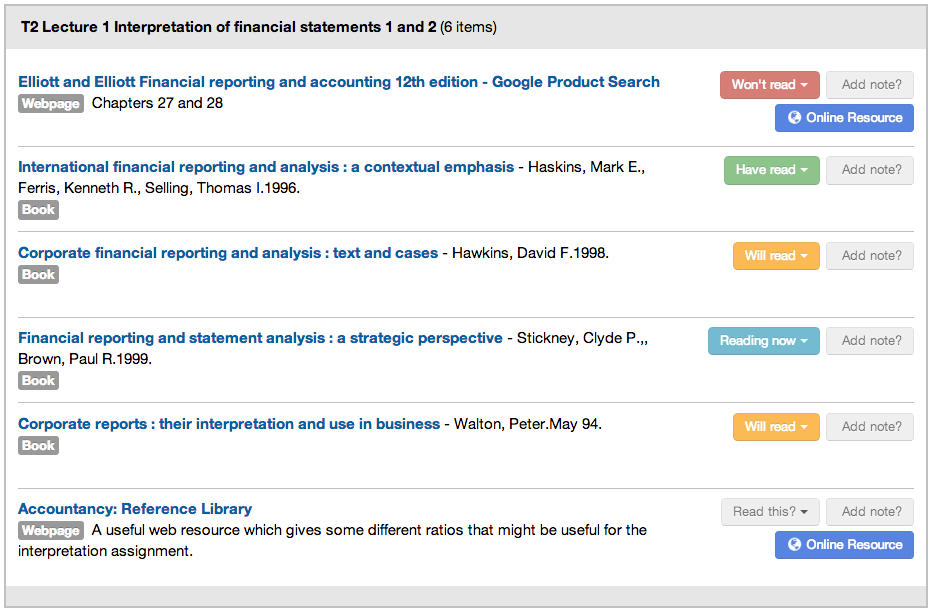 Your reading intentions are also stored in your profile for future reference.
---
How do I set a reading intention
To set a reading intention, first you must be logged in. Once logged in, click Read this? next to the list item you wish to set a reading intention for.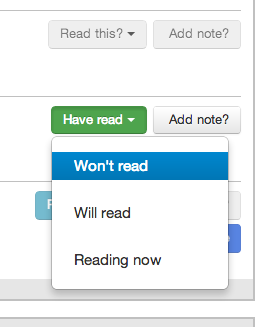 You can also set the reading intention from every item's detail page.