Below are some general works which you may find useful for the course as a whole. There is no perfect grammar book, or dictionary. You should try to build up a personal list of books that answer different types of questions and which you can work with effectively. The aim of this list is neither to be exhaustive or prescriptive. It is, rather, to get you started and to get you into the right sections of the Library.

If you intend to continue with German, you must buy a good bilingual dictionary.

Book You will also find it useful to consult and, if you are continuing with German, eventually to purchase, a monolingual dictionary, such as a Wahrig edition.

Often a general dictionary will only get you so far. For the adventurous Germanisten, more specialized tools are also invaluable for reference:

Der Duden in zwölf Bänden: das Standardwerk zur deutschen Sprache - Matthias Wermke, Kathrin Kunkel-Razum, Werner Scholze-Stubenrecht 2001-2007

Book See Bd. 2 Stilwörterbuch for checking cases/collocations and Bd. 9 Richtiges und gutes Deutsch: Wörterbuch der sprachlichen Zweifelsfälle for entries on letters, spelling, capitalization, style etc.

Advanced German Course - Agatha Russon, Leslie John Russon 1978

Book A great book: includes grammar, exercises, translation and an introduction to literary analysis.

Hammer's German grammar and usage (6th ed.) - Martin Durrell, A. E. Hammer 2017

Book The classic English language grammar of German. Earlier editions (+ e-book edition) available in the Library - check SAULCAT for details.

What is German Studies?

51 items

Here you will find suggested reading on each of the specific topics on this part of the module, as well as general reading to get you acquainted with Germanistik more broadly.

Weeks 1 and 2: Remembering the Past

6 items

See MMS for the Richard von Weizsäcker speech that we will work on in class

Weeks 3 and 4: Introduction to Literature: Kafka

9 items

The scholarly literature on Kafka is vast but the following texts can be relied upon to provide you with reliable and useful information

Die Verwandlung - Franz Kafka 2006 (electronic book)

Book This edition of Die Verwandlung was originally published in 1985 in the series 'Twentieth Century German Texts' for use in the sixth form and in the first year of university studies. It is available as an e-book and is especially recommended for its concise introduction (pp. 1-22)

Kafka, die frühen Jahre - Reiner Stach 2014

Book With the publication of Kafka: Die frühen Jahre, covering the author's life from 1883 to 1911, Reiner Stach completed his definitive three-volume biography of Franz Kafka. The first volume, Kafka: Die Jahre der Entscheidungen (2002), covers the period 1910-1915, and the second Kafka: Die Jahre der Erkenntnis (2008) the latter part of Kafka's life, from 1916 to 1924.

Weeks 5 and 7: The History of Ideas: Herder

7 items

Week 8 and 9: Introduction to German Linguistics

5 items

The structure of German - Anthony Fox 2005

Book See chapter 3 'Morphology', pp.102‑158. Available in the Library and as an e-book.

Weeks 10 and 11: Contemporary German Film

12 items

Auf der anderen Seite - Fatih Akin 2007 (dvd)

Audio-visual document Essential This is the set film for this section.

German cinema: since unification - David Clarke 2006

Book See Rob Burns, 'Turkish-German Cinema: From Cultural Resistance to Transnational Cinema?', pp. 127–49 (digitised).

Spaces in European cinema - Myrto Konstantarakos 2000

Book See Deniz Göktürk, 'Turkish Women on German Streets. Closure and Exposure in Transnational Cinema', pp. 64-76 (digitised).

Bibliography and general

2 items

Literary history and reference

5 items

Literary history is fascinating and there are lots of histories of German literature, some more useful than others. Some useful ones include:

The twentieth century, 1890-1945 - Raymond Furness 1978

Book Part of the 'A Literary History of Germany' series - readable volumes on different periods. Further volumes are available in the Library.

Thinking about literature

2 items

You will study different aspects of literary texts with each tutor in the first semester. However, useful overviews are:

Theory of literature - René Wellek, Austin Warren 1963

Book A classic. Gets you thinking, and good English style.
All rights reserved ©
Profile Required
Reading intentions and notes are stored against your user profile. Please create a profile to use this feature.
My notes
You must be logged in to add a note
What are item notes?
You can use item notes to make personal notes on any of your reading items. Notes are private to you and will not be shown to other users.
You can review your item notes from the list, the item page or from your profile page.
---
How do I create an item note?
To make notes, first you must be logged in. Once logged in, simply click Add note? next to the list item you wish to make notes on. You can also make notes at the bottom of every item's detail page.
Your note will be saved automatically as you type.
Have you read this?
You must be logged in to set a reading intention
What are reading intentions?
Setting up reading intentions help you organise your course reading. It makes it easy to scan through your lists and keep track of progress. Here's an example of what they look like: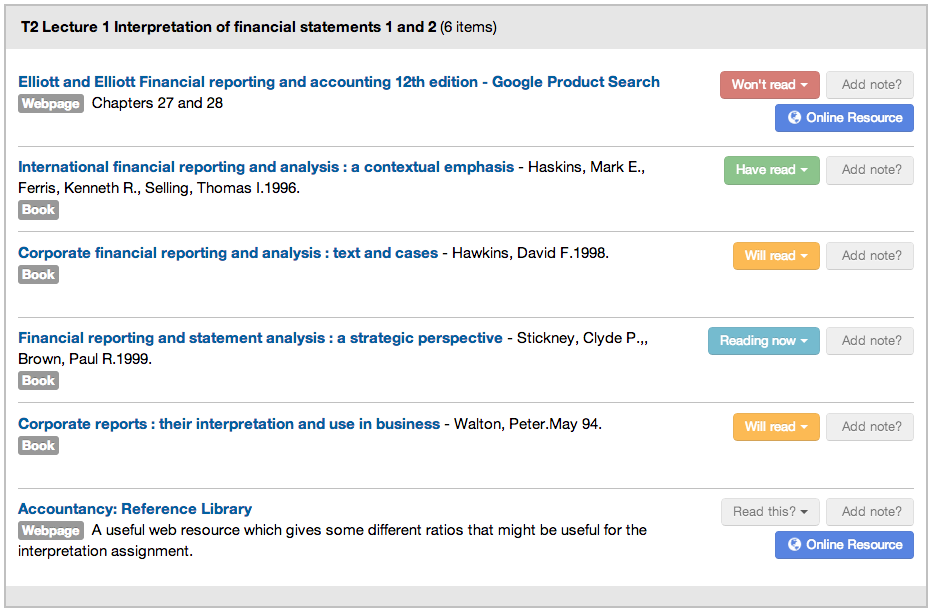 Your reading intentions are also stored in your profile for future reference.
---
How do I set a reading intention
To set a reading intention, first you must be logged in. Once logged in, click Read this? next to the list item you wish to set a reading intention for.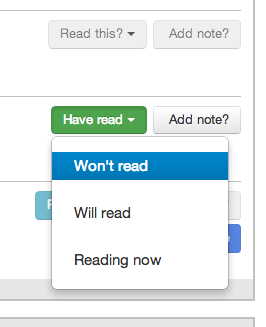 You can also set the reading intention from every item's detail page.