This list relates to the 2017-18 which ended on 18/08/2018
Historical overviews, biographies & key ethnographies

15 items

Published fieldwork journals/diaries/autobiographies:

14 items

Tristes tropiques - Claude Lévi-Strauss, John Weightman, Doreen Weightman 1992

Book Several other editions also available in the Library.

Published letters:

3 items

Research methods texts:

15 items

Ethnography: principles in practice - Martyn Hammersley, Paul Atkinson 2007 (electronic book)

Book Copies of the second edition in print are also available in the Library at classmark GN345.H2F95.

Ethics guidelines:

2 items

Webpage Full ethical guidelines PDF available through site.

ESRC Research Ethics Framework

http://www.esrcsocietytoday.ac.uk/ESRCInfoCentre/Images/ESRC_Re_Ethics_Frame_tcm6-11291.pdf

1. Fieldwork: scientific endeavor and lived experience

8 items

2. Participant Observation – 'subjects' of research

9 items

3. Ethnographic conversations, life histories and interviews

5 items

4. Historical Ethnography

6 items

5. Designing your research – proposal/practicalities/access

4 items

The craft of research - Wayne C. Booth, Gregory G. Colomb, Joseph M. Williams 2008

Book Essential Chapters 3 and 4 (digitised).

6. Multi-sited fieldwork – contemporary needs/approaches

7 items

7. Reflexivity, Subjectivity, Politics, Epistemologies

11 items

8. Collaborative anthropology and power in writing ethnography

7 items

9. Ethics in anthropological practice

7 items

Website Please have a look at a few entries as well as the full text of the 2012 AAA statement on ethics.
All rights reserved ©
Profile Required
Reading intentions and notes are stored against your user profile. Please create a profile to use this feature.
My notes
You must be logged in to add a note
What are item notes?
You can use item notes to make personal notes on any of your reading items. Notes are private to you and will not be shown to other users.
You can review your item notes from the list, the item page or from your profile page.
---
How do I create an item note?
To make notes, first you must be logged in. Once logged in, simply click Add note? next to the list item you wish to make notes on. You can also make notes at the bottom of every item's detail page.
Your note will be saved automatically as you type.
Have you read this?
You must be logged in to set a reading intention
What are reading intentions?
Setting up reading intentions help you organise your course reading. It makes it easy to scan through your lists and keep track of progress. Here's an example of what they look like: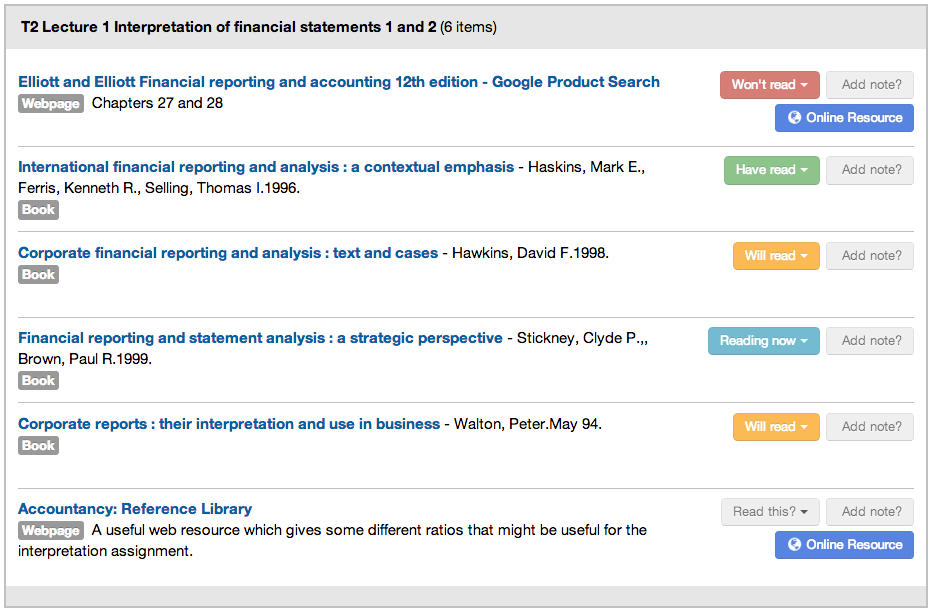 Your reading intentions are also stored in your profile for future reference.
---
How do I set a reading intention
To set a reading intention, first you must be logged in. Once logged in, click Read this? next to the list item you wish to set a reading intention for.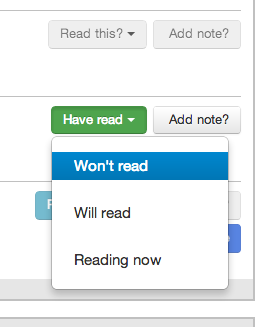 You can also set the reading intention from every item's detail page.